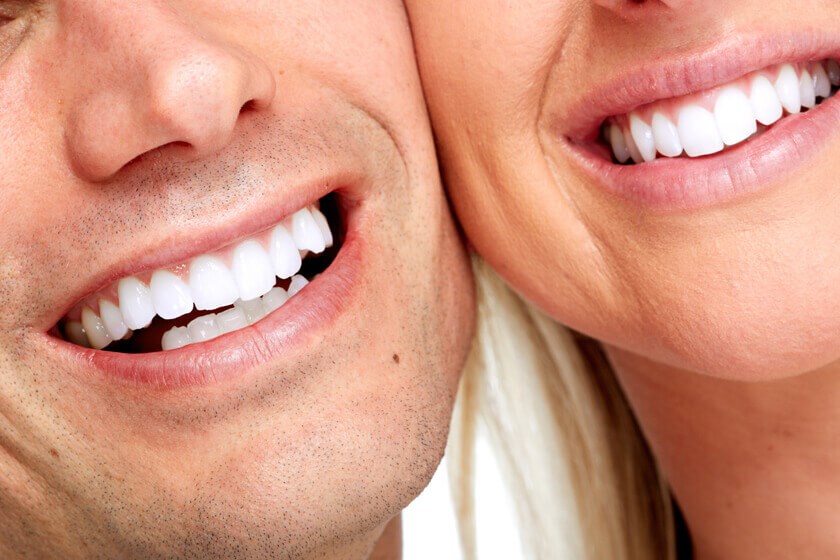 RENEW YOUR BITE WITH DENTURES
While many individuals have opted for implant-supported restorations to replace their missing teeth, removable dentures can still be the best option for Niles, OH men and women. A set of false teeth can replacef many or all of the teeth in your top and/or bottom arches. At DentalWorks - Eastwood Niles, we offer customized dentures made of high-quality materials for a well-tailored fit that appears totally natural. In today's post, we will learn about the different types of traditional dentures and their cost, plus how to care for them and how to make them fit better.
VARIETIES OF DENTURES
Your dentist may recommend full or partial dentures, depending on whether you need to replace some or all of your teeth. Most dentists in Niles, OH also furnish temporary dentures while your made-to-order dentures are being fabricated.
TEMPORARY DENTURES
Also known as immediate dentures, temporary dentures are meant for use while your personalized dentures are being fabricated. Temporary dentures are not intended to fit perfectly, but they should help you to speak and eat while you wait for your new set of dentures. Your dentist will discuss with you whether he or she recommends temporary dentures. Your dentist or someone on their team will also go over your expected pricing.
FULL DENTURES
In the event you must replace all of your teeth, full dentures are a sound option. Occasionally, any remaining teeth may need to be extracted before you receive your set of full dentures.
PARTIAL DENTURES
In the cases of people who still have most of their natural teeth, a partial denture can be made to fill in the areas where teeth are missing. As with a bridge, a partial denture is affixed to your existing teeth to rehabilitate your whole smile. Specially designed partial dentures ensure confidence that your new teeth match the shape and tone of your own teeth, so your new smile looks like you were born with it.
CAN I AFFORD DENTURES?
The expense of dentures can vary in regard to the type needed, the quality of the materials, and multiple other factors. It might seem like a good idea to look for a dental practitioner in Niles, OH who advertises less-expensive dentures, but this will typically cost more overall since lower-quality dentures are more vulnerable to chips and cracks and need to be replaced more regularly. It is really better to look for a dentist in Niles, OH who can give you high-quality, personalized dentures that fit your needs and budget. At DentalWorks - Eastwood Niles, our team works persistently to ensure that your dentures are attainable. We cooperate with your dental insurance provider and accept multiple payment options. Quality dentures are designed to restore your ability to eat comfortably, speak clearly, and grin with confidence, so this important investment is sure to prevent years of complications and inconvenience.
HOW TO MAINTAIN YOUR DENTURES
Your new dentures are an investment in your oral health, so you really should prioritize maintaining them. When you have your initial consultation, talk to your dentist about foods you should not eat and any advice they have for caring for your new dentures. Always remember to clean your dentures at least twice daily to get rid of discoloration and buildup. You also need to clean your tongue and gums with a soft-bristled toothbrush before you put your dentures in and after you take them out to support the blood circulation in the soft tissue. Continue to schedule appointments with your dentist in Niles, OH at least biannually for oral health check-ups so your dental practitioner can check the fit and condition of your dentures. For patients who have partial dentures, we still encourage you to get your natural teeth cleaned biannually at DentalWorks - Eastwood Niles.
HOW TO STAY COMFORTABLE IN YOUR DENTURES
It could take a while to get used to your new dentures, but eventually, you can be speaking, eating, and smiling with enhanced confidence. Over the years, the fit of your dentures could change, but there are some things you can do to make your dentures fit more securely.
DON'T SOAK THEM IN HOT WATER
You should use room-temperature water when you soak your dentures. Soaking dentures in hot water can alter their shape and change the fit.
ADHESIVES TO HOLD DENTURES IN PLACE
An excellent set of dentures designed for your mouth should be comfortably secure without adhesives, but they may help you feel more secure. There are many types of adhesives available, for example, pastes, powders, and pads, that you can sample to see which you like best. Denture adhesives must be fully removed and then re-applied daily. Your chosen adhesive can be used every day for added confidence or as a temporary fix while you wait to get your dentures adjusted.
REBASING OR RELINING
If the teeth in your dentures are in good repair but the base is showing wear, your dentist should be able to rebase or reline your dentures. The new base will be made to fit the evolving dimensions of your mouth. Relining tweaks the underside of the base so you get a more tailored fit.
SOAK THEM OVERNIGHT
It's a good idea to keep your dentures hydrated, so make sure you soak them during those times you aren't using them. If you need a stronger cleaning, you can add a special cleaner while they are soaking.
SEE YOUR DENTIST FOR NECESSARY REPAIRS
If you unwittingly drop or crack your dentures, don't try to restore them yourself. Set up an appointment with your dentist to evaluate and restore your dentures. Even if it looks like a small issue, like a chip, trying to patch it yourself might generate even more issues.
ASK FOR AN ADJUSTMENT
In situations where your dentures start to feel like they don't fit or like they are loose, schedule a visit with your dentist in Niles, OH for an adjustment. Your dentist can tweak your dentures to make them more secure.
BUDGET-FRIENDLY TRADITIONAL DENTURES
Elevate your quality of life with full or partial traditional dentures at DentalWorks - Eastwood Niles. Schedule a visit at our office in Niles, OH to determine if you are a candidate to be fitted for dentures and learn everything you need to know about your options. Specially made dentures composed of high-quality materials can help you feel more self-assured while smiling, eating, and speaking.