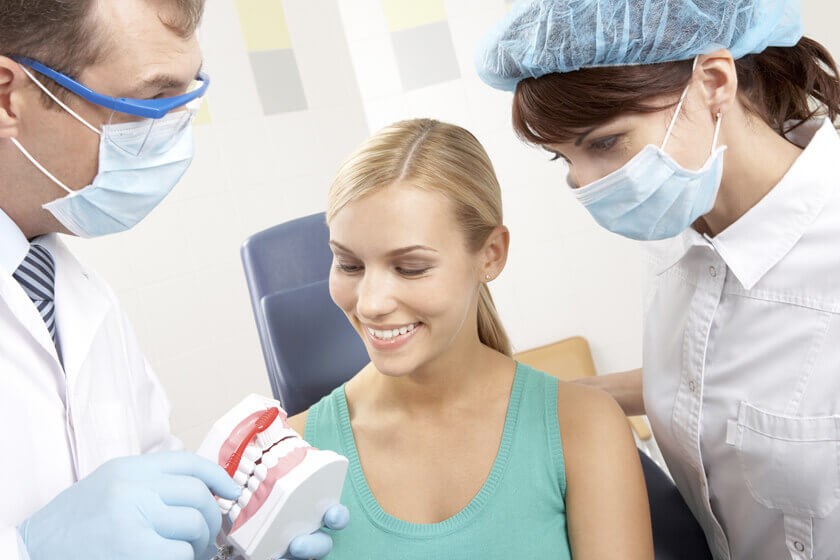 Maintaining a consistent routine that consists of brushing and flossing each morning and night is vital to make sure that your oral wellness is in great shape. But what many patients don't know is that biannual cleanings done by a dental professional are just as necessary for your dental health. Biannual dental cleanings, also called prophylaxis, are a general dental service that removes plaque and polishes the teeth. Getting your enamel professionally cleaned on a routine schedule should help to keep bacteria, tartar, discoloration, and a majority of other conditions controlled. Eradicating plaque from the mouth might also get your teeth and gum tissue into greater shape and refresh your breath.

Visiting the dentist a minimum of two times annually for professional cleanings is a necessary part of each person's oral care regimen. Our skilled team of dental practitioners and hygienists employs refined methods to conduct standard oral care treatments and improve the smiles and lives of Niles, OH patients. If you are due for a routine dental cleaning or have separate oral wellness concerns, DentalWorks - Eastwood Niles hopes to be your trusted source for dental care. We encourage you to read this article to discover what things you should know about professional dental cleanings and how this commonplace dentistry treatment may help your smile, today and well into the long term.

WHAT DO PROFESSIONAL TEETH CLEANING SESSIONS CONSIST OF?
A professional dental cleaning at DentalWorks - Eastwood Niles will differ to suit your specific wellness requirements. Other comprehensive dentistry treatments may also be administered at a cleaning appointment to enable you to get more benefits following your meetings with the dentist. The other treatments can include dental sealants and fluoride gel. Teeth cleanings by our knowledgeable Niles, OH team are in-depth and individually tailored to enable you to maintain your healthiest smile.

First, one of our hygienists will assess your medical standing
Niles, OH people are typically taken aback to find out that their dental health might have an effect on their total physical wellness. Prior to your professional cleaning, your past and present medical conditions, including all medications or supplements that you take, will be carefully assessed. This often gives our team a more comprehensive understanding of your total physical health and how it may link to your dental standing.

From there, a member of our knowledgeable staff will scale and polish your teeth.
Most of your dental cleaning appointment will be dedicated to eradicating food particles and tartar from your enamel. Plaque and buildup create a home wherein damaging bacteria exist and produce acids that may potentially weaken some oral structures, including the enamel. The highly trained hygienists at DentalWorks - Eastwood Niles will thoroughly remove the plaque and tartar from your teeth to boost your oral health and reduce the chances of certain conditions, including damage to the enamel and periodontal disease. Yellowing or stains that have built up on the teeth from caffeinated drinks or other foods can also be polished off for a brighter and smoother appeal to your teeth.

Fluoride treatments will usually be made available to kids or adults who easily develop cavities.
A fluoride application is a helpful service we perform to strengthen the teeth and shield them from the development of decay. This service is commonly recommended for kids, but it could equally be useful for teens and adults who show signals of early decay, a history of cavities, exposed tooth root surfaces, or other points of concern. To benefit patients who are at an increased risk for tooth decay, fluoride can be applied to the teeth near the last part of their dental cleaning session.

HOW REGULARLY SHOULD MY FAMILY RECEIVE AN ADVANCED DENTAL CLEANING?
Regular dental cleanings are usually recommended about two times per year. However, individuals who have gum disease or various other dental concerns could require cleanings 3 – 4 times a year. Our knowledgeable Niles, OH staff will assess your concerns and help you decide the dental cleaning routine that's right to ensure your teeth and gum tissue are in their ideal shape.

PICK A DENTIST WHO'S DEVOTED TO THE WELLNESS OF YOUR MOUTH
The smile is generally one of an individual's most valuable attributes. Having biannual teeth cleanings is necessary to be sure that your smile is bright, visually pleasing, and in good shape. To accomplish this, it's essential that you pick a dentist who is just as committed to the health of your teeth. Our team of oral care practitioners at DentalWorks - Eastwood Niles has a desire for elevating the well-being of our numerous patients with an individual approach to oral treatment. We welcome local individuals to call our Niles, OH office whenever possible to set up a visit for a biannual dental cleaning.